Usher Transport Garners NTTC Outstanding Performance Safety Trophy
---
Apr 30, 2012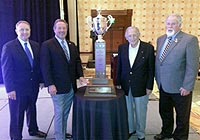 ARLINGTON, VA – National Tank Truck Carriers (NTTC) announced that Usher Transport, based in Louisville, Kentucky, has won the coveted Outstanding Performance Trophy in the 2012 Safety Contest. The award was presented to Usher Transport during NTTC's 65th Annual Conference in Austin, Texas. The Outstanding Performance Trophy is sponsored annually by Heil Trailer International of Athens, Tennessee and is awarded to the carrier who is deemed to have the best comprehensive safety program in the tank truck industry for 2012.
Usher Transport earned the award with an accident frequency of 0.132 per million miles during 2012. The carrier is also taking home the Grand Award in the "15-18.5 million miles class" among a group of nine carriers, and also received a 24-year certificate in the 2012 Safety Improvement Contest. This is the second time Usher Transport has won this award.
"It's truly an honor to win this award among such an exceptional group of safe and competitive NTTC carrier companies," says William A. Usher, Jr., CEO. "Usher Transport is proud of its safety commitment and this award is a testament to those company-wide values."
Contest judges who determined the winner of the Outstanding Performance Trophy this year are Paul Bomgardner, Federal Motor Carrier Safety Administration (FMCSA); Kris Phillips, FMCSA; Thomas Fuller, New York State Police; and Jon Samson, Agricultural and Food Transporters Conference.
The NTTC conducts four annual safety contests each year. These include a Competitive Safety Contest in which carriers compete in separate mileage classes; the Safety Improvement Contest in which a carrier competes against its own record for the previous year; a Personnel Safety Contest that is based on injuries per hours worked; and the Outstanding Performance Contest.