Kentucky Tank Truck Carrier home to NTTC's Safety Director of the Year
---
Jun 12, 2012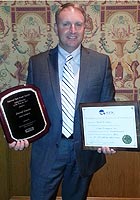 The National Tank Truck Carrier's Safety Management Council recently named Usher Transport's Director of Safety, David Guess, as the 2012 Safety Director of the Year.
This is second such recognition Mr. Guess has received after being presented the National Safety Professional Award of Excellence in September of 2012. The Safety Director of the Year Award was presented by NTTC's Vice President Fritz Mead during the 2013 Summer Safety Conference held in Denver, Colorado, June 3rd through the 7th, 2013.
During his acceptance speech, Mr. Guess acknowledged many of those responsible and crediting this success. Mr. Guess states the fleet and executive leadership within Usher Transport has been one of the greatest contributing factors to this award. Of those, Mr. Michael Baker, Usher Transport's Vice President of Safety and Human Resources has provided more than 15 years of leadership, guidance, and certainly many "coachable moments" as Guess states. Without someone in an organization that understands succession and the development of their employees, many organizations never reach full maturity in their talent management.
However, Mr. Guess goes on to state that remembering where a person comes from and knowing the sacrifice others have made is by far the greatest attribute in an person's career and personal life. Guess credits a work ethic developed by spending many long days in the field, working in tobacco, and the usually quiet wisdom of his dad, Charles, as the main reason his career has flourished over the past 20+ years. Guess dedicated this year's award to the patriarch of Usher Transport, Mr. William A. Usher, Sr. Without the wisdom, knowledge, and ability to make difficult decisions spanning more than 60 years, the company would not be where it is today. Secondly, Guess contends through the continued leadership of Mr. Usher's two sons, William Usher, Jr. and Alan Usher, the company continues to flourish by building upon values steeped in tradition and ethical values in business.
A native of Lyon County, Kentucky, David is the son of Charles and Shirley Guess of Kuttawa. A 1986 graduate of Lyon County High School, David also holds undergraduate degrees from Murray State University, Indiana Wesleyan University as well as a graduate degree in strategic management from Indiana Wesleyan University. Currently, David is a full-time doctoral student at the University of the Cumberlands in Williamsburg, Kentucky completing his doctorate in business management education. In his passion of teaching and leadership, David also serves as an adjunct professor of business and leadership for Indiana Wesleyan's Louisville campus where he teaches business management curriculum in IWU's Master's Program.
His career in transportation began in Western Kentucky with Vehicle Enforcement working at both East and Westbound I-24 scale facilities and from there flourished into his positions today as a corporate safety director and human resources.
Mr. Guess is a Professional Member of the American Society of Safety Engineers, National Safety Council, the North American Transportation Management Institute (Academic Advisory Chairman), the National Tank Truck Carrier's Association, Commercial Vehicle Safety Alliance (Hazmat Committee Allied Member), the Kentucky Motor Transport Association (Board Member), Kentucky State Safety Council (Past Chairman), the American Trucking Association Safety & Loss Prevention Council's Accident Review Committee (chairman). David serves as a guest lecturer for various organizations, including the National Safety Council and the North American Transportation Management Institute. David serves on varied industry panels advising public-private research initiatives such as the Trucking Industry Injury & Illness Prevention Stakeholders from the University of Kentucky. Other panels include technology deployment efforts and hazardous material security panels and cargo tank rollover prevention committee with the FMCSA.
The National Tank Truck Carriers Association is the only national organization dedicated to advancing safe policies, practices and technology; and effective risk management and accident/injury prevention in the tank truck industry. The NTTC also addresses trucking's unique human resource challenges, health and wellness issues, as well as recruitment and retention strategies.
Mr. Guess was a featured conference panelist this year during discussions on topics specific to compliance, safety, and accountability.