Employee of the Year
---
Jan 21, 2022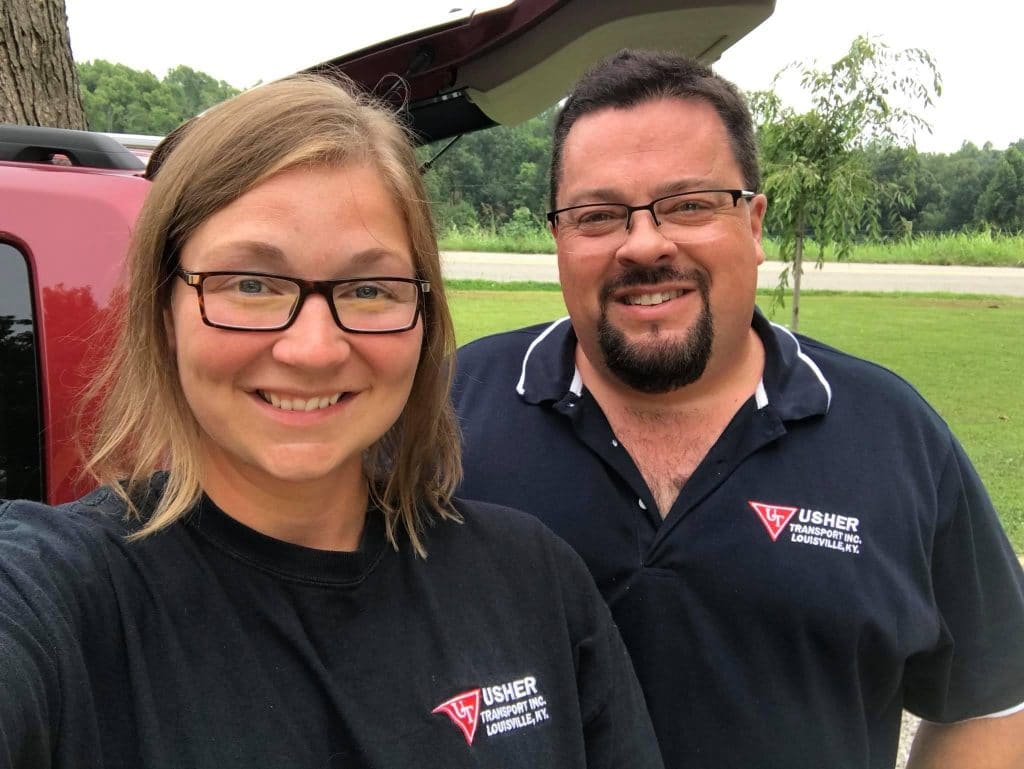 Employee of the Year:
Today, I have the privilege of presenting Christine Estes, Usher Transport's Safety & Recruiting Manager, as our Employee-of-the-Year!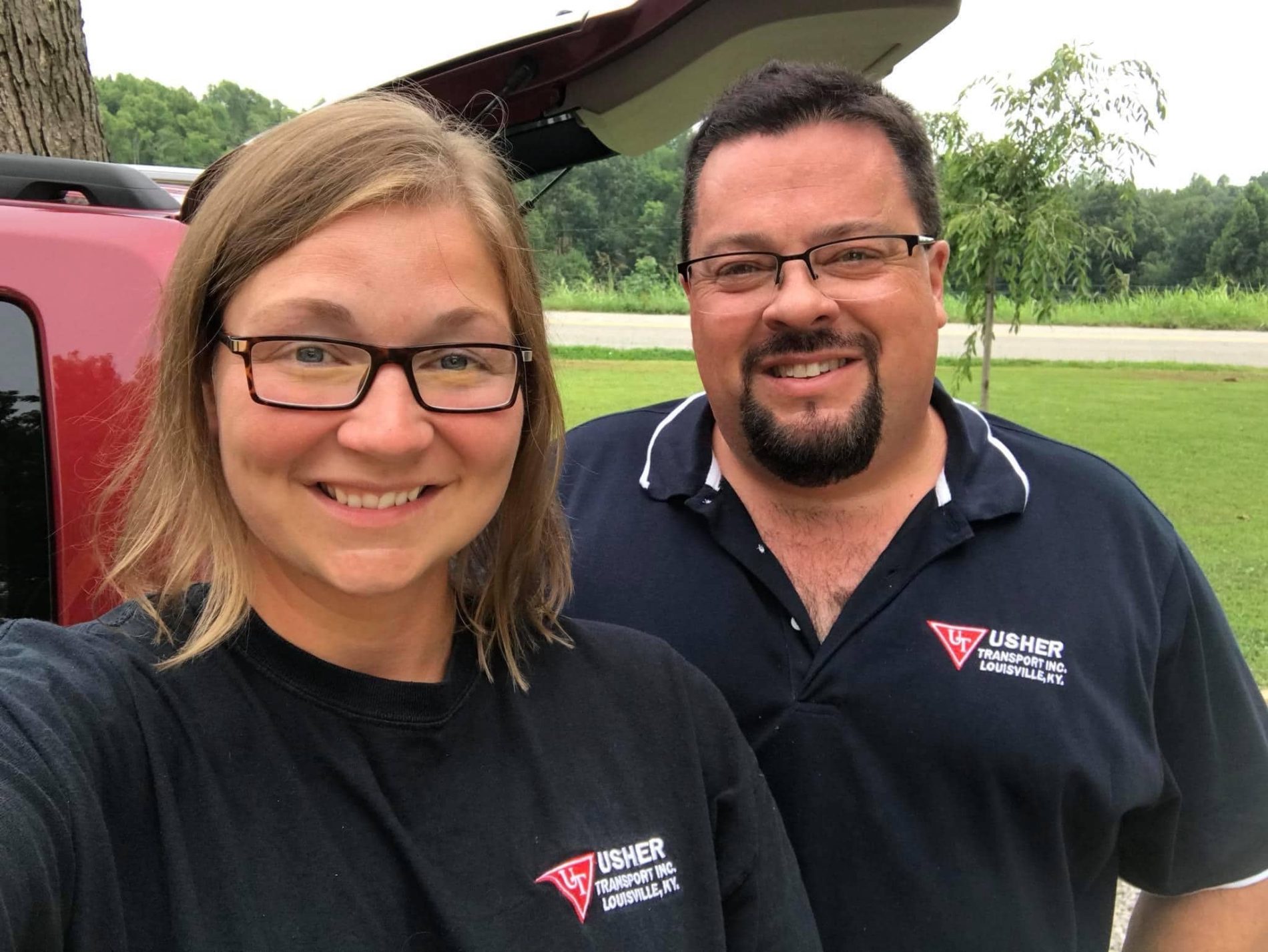 Our Employee-of-the-Year is selected from a pool of 4 candidates from each quarter's "Employee-of-the-Quarter" program. Christine joined Usher Transport on July 9th, 2018, as a contracted field recruiter from her home in Kings Mountain, KY. It didn't take long for us to realize that Christine brought far more to the company than being a contracted recruiter.
To that point, Christine was officially hired as Usher's Safety & Recruiting Manager. For the past two years, she has continually gone above and beyond in her responsibilities. Specifically, Christine managed the company's entire healthcare program while continuing to recruit, conduct background checks, coordinate the company's orientation and onboarding program, and many other duties within human resource management.
In short, Christine has not only performed the functions of what would typically have been three separate jobs, each being more than a full-time responsibility, but she has also done so with the utmost motivation, professionalism, and zeal to put the needs of others above as her first priority. For 2022, Christine will be transitioning many of her current duties to our incoming Human Resource Manager. This transition will allow Christine to focus solely on her safety and risk management role.
Christine holds a promising career track within Usher Transport, Inc. Recently, she completed formal training with the North American Transportation Management Institute out of Denver, Colorado, in her quest as a Certified Director of Safety, scoring exceptionally well on a three-hour final exam process.
In November this year, Christine was elected as the incoming Vice-Chairwoman for the Kentucky Trucking Association's State Safety & HR Council, giving an even greater voice to the "Women in Trucking" campaign across the United States.
In the coming months, she will continue in her training by completing an OSHA training program at Eastern Kentucky University and becoming certified as an Emergency Response Technician for Hazardous Materials Response as Usher's Safety & Recruiting Manager, Christine's career track will lead to the role of Safety Director and points beyond.
If that's not enough, Christine is also a full-time student at the University of the Cumberlands in Williamsburg, KY., where she currently maintains a 4.0 GPA in her program.
Christine and her husband, Johnny Ray, relocated to Brandenburg, KY. not long ago so both could be closer to their work. Johnny Ray has been a professional transport operator with Usher Transport since April of 2015. Christine and JR have one son, Sam.
If you follow them on social media, there's no doubt this family's dedication and commitment to the trucking industry is impeccable.
Congratulations, Christine; you've worked extremely hard to get where you are, and we look forward to seeing what the future holds for you.
On behalf of the entire Usher Transport family, Thank You.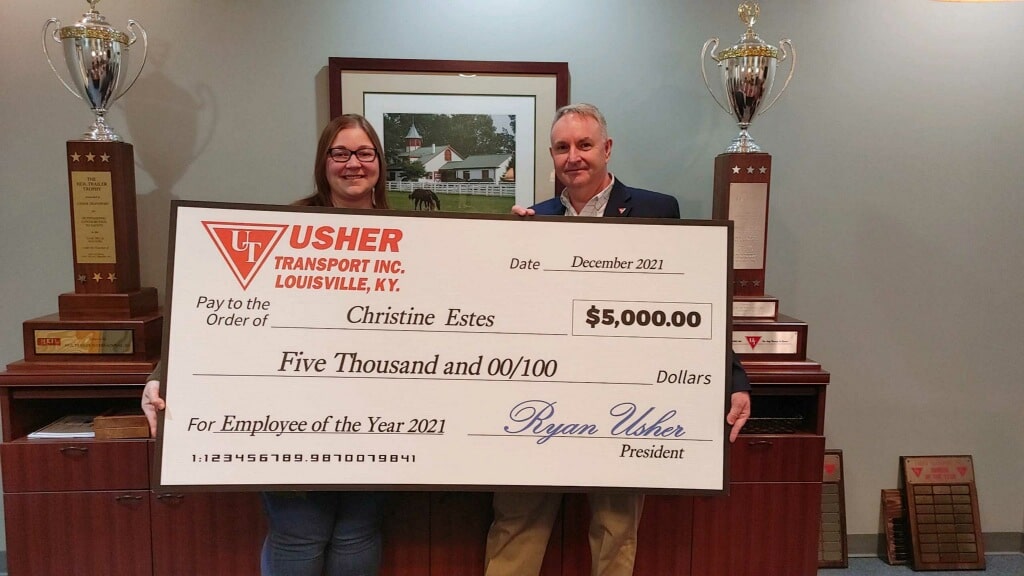 Christine was presented with a $5,000 check, a commemorative plaque, and two books: The 5 Levels of Leadership and Leader-Shift as part of her continued pursuit in trucking leadership.